A Brief Introduction of the Suture Practice Tools & Pads
Adson Forceps: Forceps toothed at the tip used for handling dense tissue, such as in skin closures. Also called locking forceps, these are ratcheted instruments used to hold tissue or objects, or provide hemostasis.
Hegar Needle Driver:Needle holders are used to grasp and hold small needles during suturing.

Iris Scissors: Iris Scissors are a type of scissors with short blades that were originally developed for ophthalmic surgery. They are alternatively referred to as Iris forceps in the United Kingdom and Asia.

Mosquito Forceps: Mosquitos play an important role in pediatric surgery. A small, straight, or curved hemostatic forceps used to hold delicate tissue or compress a bleeding vessel.

Scalpel Blade Handle: Scalpel Blade Handle is used for cutting gingival tissue and making surgical incisions.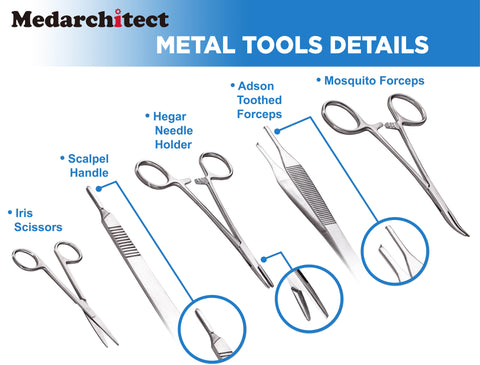 Nylon Monofilament & Polypropylene Monofilament: Monofilament or invisible thread is a good choice for many quilting projects. Monofilament thread typically comes in transparent smoke and clear colors. Since it's shiny, like a thin fishing line, the smoke is best against dark colors.

Silk braided & Polyester braided: Braided sutures consist of several small threads braided together. This can lead to better security, but at the cost of the increased potential for infection.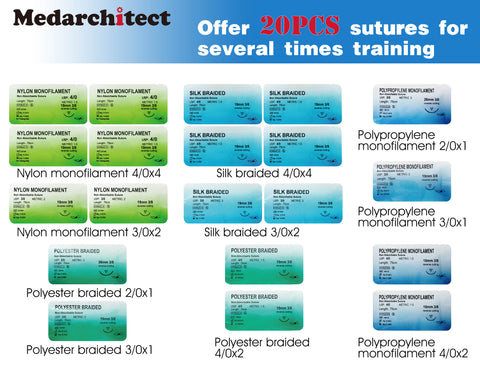 Mini suture pad with 19 Pre-Cut Wounds: Apart from the usual straight and curve cut line, the suture pad provides S shape, T shape, Y shape wounds, which simulate the wounds we can see.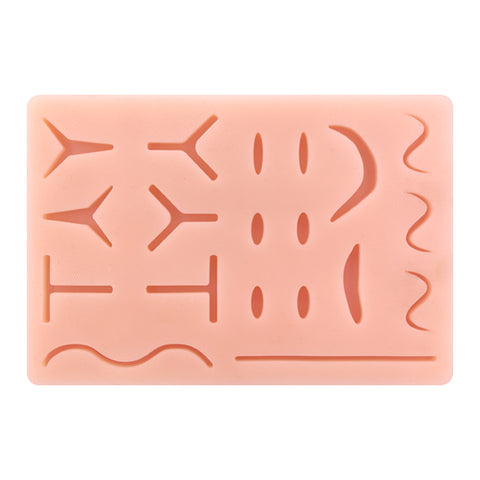 Upgraded Large 3-Layer Suture Pad with 14 Pre-Cut Wounds: This suture pad is with 3 layers design, simulating human beings' skin, subcutaneous, muscle. The pad consists of different size pre-cut wounds design for elementary suture skill training. Users can gain experience & proficiency while doing suturing practice on the pad.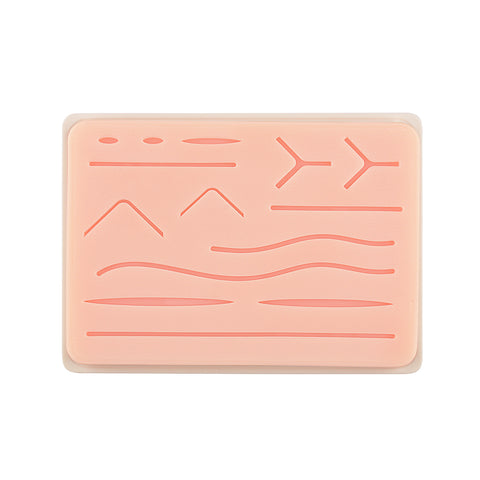 Self-Made Incision Suture Pad: Uncut surface, no fixed wound design, you can design the shape of the wound at will, practice the suture method better, and react quickly to different wounds.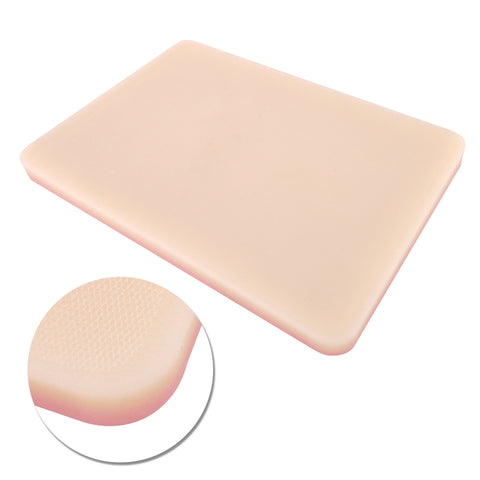 Silicone Laparoscopic Suture Simulation Pad: Features a realistic texture and 12 different types of common cuts and lacerations, irregular wounds. Can be used with laparoscopic training equipment.
Laparoscopic soft tissue suture practice pad: It is specially designed for laparoscopic exercises and can provide basic suture exercises such as tying knots, sewing, and dissecting tissues for less experienced trainers.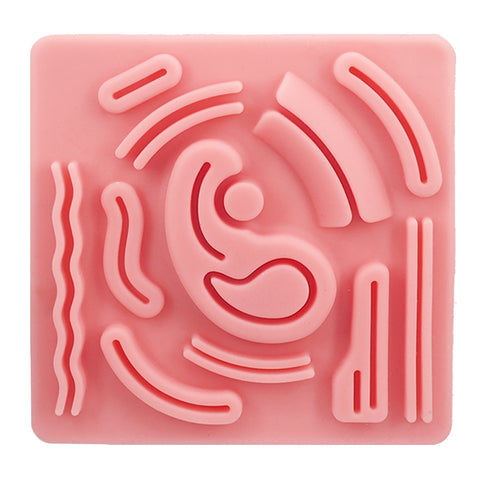 Suture Pad with Anti-Slip Curved Base: The silicone pad is affected by the tension provided by the curved base, and the wound can simulate a real opening state. Under the action of gravity and resistance, the product has strong adhesion. It won't move randomly when stitching needles in and out.