Pediatric Nurse IV Arm for Venipuncture & Phlebotomy Training Workshop & Courses
Getting IV access for an infant/toddler is a challenging task that requires a lot of practice. - Babies move, their veins are small, and they often have fatty tissue around the veins. Many pediatric nurses have little access and experience with IVs for babies. The realistic IV simulator is designed to create pediatric IV scenarios to help nurses/doctors practice more pediatric IV injections and phlebotomy.

Palpation is used to assess vein depth, width, direction, and health (elasticity). We designed a visible and softer simulated vein with silicone material to facilitate palpation demonstrations and training. The sensation of venipuncture is also a wonderful reason for the soft character of veins.
The baby IV arm is rotationally molded. Consists of a special very thin synthetic skin and a silicone tube with a small lumen. Soft, latex free, eco-friendly and durable. Realistic baby arm can withstand hundreds of repeated punctures without leaking.

Lengthened infusion tube: 35cm long, easy to operate, and can be used with other injection products.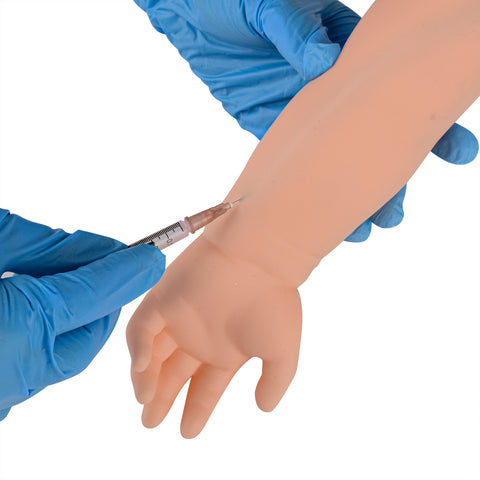 The key to the generation of flashbacks in the venous system of the pediatric simulator:

The simulator will only generate blood return when there is sufficient pressure in the venous system. The magnitude of the force depends on the placement of the reservoir bag or the height of the reservoir bag.